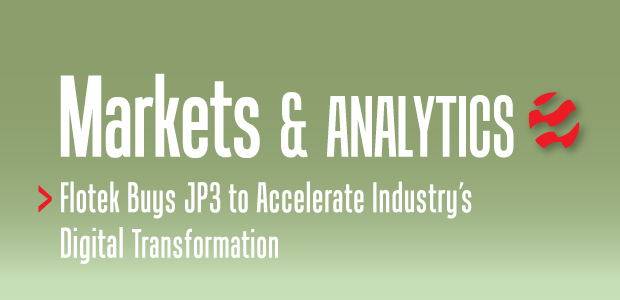 April 2020 Markets & Analytics
Flotek Buys JP3 to Accelerate Industry's Digital Transformation
HOUSTON–Flotek Industries Inc. reports it has acquired 100% ownership of JP3 Measurement LLC, a privately held data and analytics technology company, in a cash-and-stock transaction. The company says the transaction is valued at $34.4 million, comprised of $25 million in cash and 11.5 million shares in Flotek common stock, with the assumption of $1.3 million in debt and an additional $5 million earn-out based on appreciation of Flotek's share price.
According to Flotek, JP3's real-time data platforms combine the energy industry's only field-deployable, inline optical analyzer with proprietary cloud visualization and analytics to radically increase processing efficiencies and valuation of natural gas, crude oil and refined fuels. Flotek says the acquisition positions it for accelerated growth and diversifies its business across all segments of the hydrocarbon value chain, while enhancing existing chemistry applications and broadening its reach across the midstream and downstream sectors.
John W. Gibson Jr., Flotek's chairman, president and chief executive officer, states, "With the acquisition of JP3, we are able to diversify our revenue stream and better serve our customers amidst accelerating digital transformation in the energy industry. The estimated $1 billion addressable market in the United States alone provides significant revenue growth opportunities.
"Together with JP3, we have a shared vision for being the platform that optimizes profitability from the reservoir to a hydrocarbon molecule's final destination. The more we know about our hydrocarbons, the more efficient, clean, safe and profitable we become as an industry," he adds.
Flotek says JP3's technology captures crude composition at the wellhead with greater precision than API gravity-based proxies, allowing producers and refiners to align contract pricing with the finished goods' value. More precise measurement also should help gas plants improve performance and reduce give-aways.
In a conference call discussing the acquisition, Gibson added that JP3's affordable crude analysis could allow Flotek to design reservoir chemicals for producers that enhance recovery of the most valuable hydrocarbon molecules. "In the simplest terms, we can begin refining within the reservoir," he said.
JP3's Thoughts
During the past four years, Flotek reports, JP3 has achieved a compound annual revenue growth rate of 58% while transitioning from traditional equipment sales to a data-as-a-service model.
JP3 President Matt Thomas says, "JP3 has built a technology platform that brings significant increases in profitability to over sixty clients by maximizing the value of their hydrocarbons through our real-time analysis of flowing products and our cloud-based monitoring solutions. Flotek's strong liquidity position can fuel growth opportunities by accelerating our data-as-a-service product offerings and expanding our reach into international markets."
In conjunction with the transaction, Flotek mentions it will create an analysis and data division. Thomas will lead the new division as Flotek's executive vice president, in addition to retaining his position as JP3's president, while JP3 Chief Data Officer James Dixson will serve as the division's senior vice president. JP3 will continue to be headquartered in Austin, Tx.
Tudor, Pickering, Holt & Co. served as financial advisor to JP3 related to the transaction, Flotek notes.