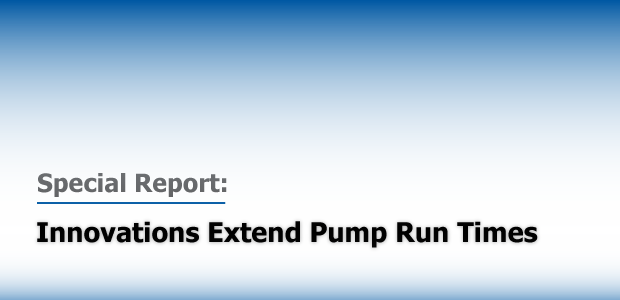 June 2018 Sneak Peek Preview
Artificial Lift Technology
Innovations Extend Pump Run Times
By Colter Cookson
Whether they are experts in electric submersible pumps, rod pumps, plunger lift systems, tubulars and sucker rods, or downhole separators and other equipment, the companies that provide artificial lift solutions share a goal: Helping operators not only produce high initial volumes, but also maintain production as economically as possible over a well's full life.
That often means extending a given pump's minimum and maximum flow rates and enhancing its durability to reduce how frequently an operator needs to pull and replace equipment. Toward that end, pump providers and other artificial lift experts say they are employing slicker materials, optimizing component geometries and refining techniques for reducing flowing bottom-hole pressure. Simultaneously, they are coming up with ways to improve safety, including blowout preventers to protect wellheads against completion-induced pressure spikes and a portable device that makes it easier for well technicians to respace rod pumps.
Most unconventional wells' artificial lift programs start with ESPs or gas lift, says Jeff Dwiggins, managing director of Artificial Lift Solutions Pte. Ltd. "Companies that want to maximize initial production rates lean toward ESPs because they offer higher volumes, while those that are driven by operating costs lean toward gas lift, which can be more reliable if gas is available," he assesses.
ESPs are becoming more reliable as manufacturers come up with ways to minimize the damage from solids and thermal cycles, and operators get better at mitigating operational issues, Dwiggins says. He argues that the pumps' ability to handle high production volumes from moderately deviated wells can make managing their inherent reliability issues worthwhile.
Operators concerned with prolonging ESP life should invest in resources, Dwiggins advises. "An operator that understands how to manage ESPs and address problems before they become detrimental to the system will be less likely to have issues," he says.
Monitoring software can help operators identify problems, Dwiggins notes. "As a baseline, the software should analyze the data, highlight potential problems, and send out alerts so those problems can be addressed. The most useful packages do everything they can to minimize the amount of analysis and work users need to do manually. However, even the best packages still require users who know what they are doing."
When ESPs fail, determining the root cause can be tricky, Dwiggins reports. "There is almost always more than one problem, and the one that caused the unit to fail may not be the biggest concern from a reliability standpoint," he says.
It can be tempting to attribute failures to manufacturing errors, but Dwiggins says it is worth considering operational issues. He points out that an ESP's reliability goes down significantly when it is used outside of the recommended operating window.
As industry activity recovers, Dwiggins encourages operators to support strong quality assurance. "We would all love to buy a Chevy Malibu and get the same quality as a BMW, but the reality is that we get what we pay for," he says.
Extending Operating Windows
Horizontal wells' artificial lift programs often start with a large ESP, then move to a small ESP and finally to a rod pump, notes Ryan Gernentz, director of mechanical engineering and quality at Endurance Lift Solutions. To mitigate the need to employ a small ESP, he says many operators are adopting lightweight fiberglass sucker rods, which can produce larger liquid volumes than steel rods because they stretch on the down stroke and enable longer plunger travel.
"To push fiberglass sucker rods' production even higher, we have developed a high-flow end fitting with a diameter of 1.8125 inches instead of 2.0 inches," he reports. "The slimmer profile increases the flow area between the end fitting and the production tubing, which means fluid can bypass at each coupling location without as much pressure drop. That should allow the rods to fall faster, possibly increasing the bottom-hole stroke and production."
Gernentz predicts the high-flow end fittings, which were undergoing initial field trials in early June, will boost production considerably. "With pumps, small changes in pressure drop lead to large increases in production. This change has the potential to reduce the pressure drop from each connection by more than 60 percent. With more than 100 connections in a rod string, we think that will add up to a meaningful difference in production," he says.
The compact design utilizes a 7/8 full size coupling and pin arrangement that will place the one-time pull rating at 65,000 pounds, Gernentz mentions. He says that with most fiberglass venders already using this pull number, there should be no issue with being able to unseat pumps. The rods' working load and other characteristics will remain the same as Endurance's current product lines.
Boosting Equipment Durability
To extend the life of metal equipment such as rod pumps, plungers and ESPs, Endurance President Dan Runzheimer says the company has partnered with B4C Technologies to find upstream applications for a surface treatment that increases metal's resistance to mechanical wear, abrasion and corrosion. Describing the treatment as a revolutionary method of thermal boron diffusion originally developed for military applications, he says it has increased certain equipment's run life by an average of 400 percent.
"Because plunger lift plungers wear out quickly, we initially applied the technology to them," Runzheimer recalls. "When we saw run time increases exceeding 300 percent, we realized it could make a huge impact on production economics."
According to Runzheimer, the technology uses a proprietary chemical formula to produce a slick, hard intermetallic ceramic boride case layer at the metal surface. The process works by migrating boron atoms into the surface, where they attach to the dominant substrate element such as iron. This subsequently converts the surface to a protective layer composed of an intermetallic ceramic that is rich in boron, which Runzheimer points out is an excellent lubricant.
"The treatment gives the metal a lower coefficient of friction, so it will generate less heat when it slides across other surfaces, thus lasting longer. Once treated, the metal surfaces also become highly resistant to corrosive fluids," he says.
Senior Vice President of Specialty Products Anthony Mason emphasizes that the treatment is 100 percent uniform and does not affect the original dimensions or surface finish of the part. "There is no change in how the product needs to be manufactured," he adds. "That is a significant improvement over traditional methods of enhancing equipment's durability, such as spray metal, coatings and plating, which often require parts to be undersized before treatment and cleaned up afterward to reach the desired size."
Since licensing the technology, Mason says Endurance has commercialized products for plunger and rod lift systems, as well as motor valve trim kits and other surface equipment. "We see broad oil and gas applications for the technology," he comments. "While we will be focusing on artificial lift, we are offering the treatment as a service to companies in other oil and gas verticals."
Magnificent Material
Through partnerships with operators and service companies, Materion Performance Alloys reports it is expanding the artificial lift applications for a durable, non-galling copper-nickel-tin alloy it originally tested with Hess Corp. to extend the life of sucker rod couplings.
Its latest development is a valve rod guide bushing (VRGB) coupling intended for the bushing that connects the rod string to the pump drive rod, says Diane Nielsen, Materion's global oil and gas manager. "In deep wells that use hollow rods, buckling at the bottom of the string causes frequent contact between the bushing and the production tubing," she says. "This contact wears out the tubing.
"Based on the success Hess had with sucker rod couplings made from the low-friction alloy, we decided to replace the steel material in the bushing with the alloy," Nielsen continues. "We also wanted to reduce movement at the bottom of the rod string, so we made the bushing body thicker to enable it to act as a stabilizer."
The VRGB coupling has performed well in the field, Nielsen reports. "We have 12 operators in various plays, including the Bakken, the Permian and the West Coast Basin, that are adopting it. They tell us it is significantly reducing tubing leaks and wear while providing more stabilization."
Other companies are looking to use the alloy in subs containing downhole sensors for measuring compression, pressure, temperature, torque and tension, Nielsen reports. "By installing these sensor-containing subs throughout the rod string, operators will be able to understand what is going on down hole, including when the rod string is coming into contact with the production tubing, which is a major cause of wear," she says. "This will help operators modify their string designs to optimize pump efficiency and minimize wear."
Nielsen adds that ESP providers are considering using the low-friction alloy in motor bearings. "We have several companies that are doing lab testing and qualification on the alloy and a manufacturer that has qualified the alloy for production," she details. "They believe the same attributes that have made the alloy so successful in sucker rod applications–the combination of low friction and high fatigue strength–can improve bearing performance and ultimately the ESP's efficiency and production."
Smooth Flow
ESPs and rod pumps benefit from consistent fluid delivery, observes Brian Ellithorp, president of Echometer UPS (Ultimate Production System). He says achieving such consistency can be difficult in horizontal wells. Even relatively straight laterals have low points that collect liquid and high points that collect gas, he points out, creating a situation where the gas-to-liquids ratio at the pump tends to swing back and forth.
To minimize those swings' negative effects, operators try to separate gas and liquids ahead of the pump. Unfortunately, that effort does nothing to address the root problem of slugging, which Ellithorp notes can outpace a separator's ability or make it difficult to keep the pump full. Putting the pump in or through the curve can help in some instances, but that frequently shortens its life so much that it causes a significant increase in maintenance costs, he relates.
As an alternative, Ellithorp recommends combining a separator with an isolated tailpipe that extends into the curve and has a small inner diameter, much smaller than the production casing. The smaller diameter increases the production stream's flowing velocity and causes the gas and liquid mix to supersede required critical velocity, which makes flow more uniform while gasifying the liquid so it is easier to lift. Ellithorp says this increases production and reduces the flowing bottom-hole pressure, allowing the pump to stay above the curve longer.
"With the first-generation tailpipe system, we hit home runs a third of the time and doubles a third of the time," he relates. "However, in some of the wells, the system seemed to have no effect. After 160 runs, we had enough data to identify the original design's limitations and develop solutions."
The second-generation design features an integrated anchor and isolation system that is more robust and easier to run, Ellithorp says. "We had the opportunity to test this system with several large operators, including ones in the Permian," he comments. "During those tests, we installed temperature and pressure gauges at both ends of the tail pipe, the base of the tool set, and the pump's discharge. The gauges confirmed the isolation's reliability, but also revealed an inaccuracy in the correlations generally used for flow velocities in horizontal wells."
Those correlations do not accurately account for the effect inclination has on how fluids and gases separate as they travel through the curve, Ellithorp details. "By using more accurate correlations, we have implemented a series of upgrades that should feed fluids and gases more efficiently through the curve," he reports.
The design improvements have paid off, states Ellithorp, noting that the tailpipe system can be used in a much wider variety of applications. As an example, he cites installations in Cleveland Wash wells that are around seven years old. "One of the wells had a 90-day average production of 10 barrels of oil and 37 Mcf of gas a day before the installation. In the 70 days after installation, oil production doubled to a sustained rate of 20 bbl/d and gas production steadily climbed to reach 150 Mcf/d," he says.
The tailpipe-and-separator concept excels in new wells, Ellithorp adds. "In ESP wells, our system has handled 2 MMcf/d-3 MMcf/d rates even with GLRs exceeding 3,000-to-1," he says. "With rod pumped wells, we have done more than 600 barrels of fluid a day."
While he generally advises against trying the system in toe-down wells with a steep inclination, Ellithorp says it has had solid and repeated success in flat or toe-up wells. "In a new well, we often see 25 percent increases in production, and in old wells, we often see increases between 50 and 100 percent," he reports. "The payback period can be as fast as two weeks and generally tops out at three or four months."
Frac Hit Protection
Because blowouts induced by completions put lives at risk and damage equipment, operators generally shut down and seal wells when frac jobs are being performed close by. This has created a need for high-pressure BOPs that are easy to activate and reliable even after multiple uses, says Denis Blaquiere, managing director of Oil Lift Technology Inc., an Apergy company.
Toward that end, Blaquiere says Oil Lift has developed an elastomer geared for BOPs in unconventional plays. "We needed to make sure the elastomer could endure the oil and corrosion it encountered during each use without degrading so the operator could be confident it would work several times," he says.
"We are happy with the elastomer's performance in the field," Blaquiere reports. "The rubber's integrity stays consistent through the life of the well, so whether it is day one or two years later, it will provide a consistent seal around the polished rod."
He adds that Oil Lift is developing a hydraulic system that allows BOPs to be activated remotely, eliminating the need for someone to visit each pad ahead of a frac job.
The pressure ratings of the BOPs depend on flange size, and range from 3,000 to 10,000 psi, Blaquiere continues. "For operators that do not need a 5,000-10,000 psi system but want stronger protection than the 1,500-psi BOP and flow T often used on rod-pumped horizontal wells, we have developed an economic 3,000-psi system," he says. "This system combines the flow T and BOP seal with a locking function into a compact package at a comparable price to the 1,500-psi BOP and flow T."
To offer the higher rating at that price, Blaquiere says Oil Lift standardized components across wellhead configurations and optimized its supply chain to source components at a low cost. "Because the system is integrated, it eliminates the connection between the flow T and the BOP, which reduces leak points. It also cuts a few inches off the wellhead stack's height, which should make it easier to work around when spacing pumps or tapping bottom," he comments.
"The sealing system in the 3,000-psi BOP is the same as the one used in our 10,000-psi units," he adds. "That provides a level of reliability and allows the system to be serviced and rebuilt rather than discarded, which should dramatically reduce long-term costs."
All of the company's BOPs can lock the polished rod in place to increase safety during stuffing box changes and other well servicing tasks, Blaquiere mentions. "By locking the polished rod in place below the seal housing, a field hand can change the seals without risking a pressure breakthrough or movement that could cause harm," he says.
Locking the rod in place can make work faster and safer, Blaquiere adds. As an example, he estimates it cuts the time required to change stuffing boxes in half. "In addition, it eliminates the need to use a crane to hold the rod string up," he says.
Rod Pump Safety
To reduce the risk, time and cost associated with spacing rod pumps, a seasoned well technician developed a hydraulic lifting device that raises and lowers rod strings safely and precisely, according to Stephen Eubank, a business development manager at Rocky Mountain Oilfield Warehouse, the lift's manufacturer.
Eubank says that with traditional methods, a well technician who wanted to respace a well would need to:
Shut off and lockout the pumping unit to remove the pollution control device, place a stack-out tool such as a suitcase or toadstool on top of the wellhead, and attach the bottom clamp to the polished rod;
Remove lockout/tagout and disengage the brake and pawl to roll the unit over onto the stack-out tool, which stresses the motor;
Lockout the unit, engage the pawl and brake, and loosen and adjust the top clamp, a task that often puts the technician's hands in a dangerous pinch point and generally must be performed off ground with unsure footing;
Remove lockout/tagout and disengage the pawl and brake to roll over the pumping unit again;
Lockout the pumping unit and reengage the brake and pawl to remove the stack-out tool and bottom clamp; and
Remove lockout/tagout, disengage the brake and pawl, and restart the pumping unit.
If the technician eyeballs where to put the clamp incorrectly, the entire process must be repeated, Eubank mentions. He says this is undesirable given the time and risks involved.
"To reach the top clamp, the technician often has to climb all over the wellhead or get on a ladder that is set up in the back of a pickup, creating a chance he will fall," Eubank says. "Also, if the brake slips while he's adjusting the clamps, he could lose a finger or a hand."
Eubank adds that the process is slow and hard on the pumping unit. "Rolling the pumping unit over to create the gap needed to adjust the top clamp often causes the bottom clamp to slam into the stack-out tool, which strains the prime mover and the string. The system is designed for smooth strokes, not sudden slams and jolts," he explains.
"The hydraulic lift eliminates the risks to people and equipment," Eubank emphasizes. "The technician starts by shutting down the pumping unit, putting the lift on the stuffing box and attaching a temporary clamp above it. Then the technician connects the lift to a hydraulic pump and uses the lift to raise the rod string. Once it is high enough, he places a permanent spacer between the top clamp and the carrier bar from a safe distance using a special pole."
Finally, the technician bleeds pressure from the lift to lower the rod string until the top clamp rests on the spacer, turns off and removes the lift, and restarts the pumping unit, Eubank outlines.
"During the entire process, the technician's feet never leave the ground and his hands never get between a pinch point," Eubank says. "Instead of rolling over the expensive pumping unit on a homemade stack-out tool to raise and lower the string, he leaves that to a purpose-built hydraulic lift and keeps the pumping unit completely locked out throughout the whole task."
Between the lift's precision and the permanent spacers, which come in three-, six- and nine-inch sizes, Eubank says this approach makes it easier to optimize spacing and compression ratios. "It is also much faster than the traditional process, saving money on man hours performing this task, and much cheaper than renting a crane," he says. "Once the pumping unit is locked out, inserting or removing a spacer should only take 10 minutes."
The hydraulic lift has performed well in Williston Basin winters and Texas summer heat, Eubank reports. With the ability to lift 60,000 pounds, he says it should easily handle even the longest strings. "Most of the components are stored in a rugged case, and we designed all of them to be easy to maintain," he adds.