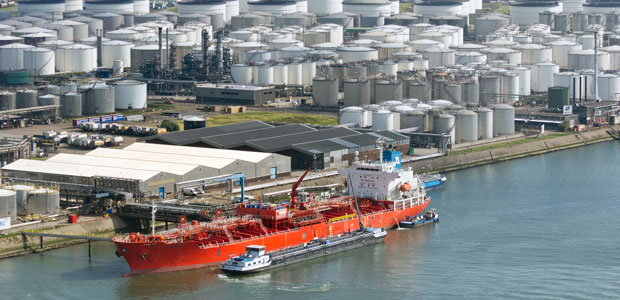 October 2018 Exclusive Story
Terminal Logistics
Technology Optimizes Terminal Management
By Robert Kessler
HOUSTON–Record U.S. oil and natural gas production, and the Gulf Coast's growth as the major market center and export hub for supplies sourced from both onshore and offshore fields make terminal storage and transportation infrastructure critical to the upstream, midstream and downstream segments alike. A new generation of terminal management tools is significantly improving operational efficiencies and logistics, starting at the dock, to optimize operations across an entire facility, from inlet pipelines and storage to refined product transportation and shipping.
These tools provide a holistic view of terminal efficiency and enable operators to manage the full range of multimodal product movements while also performing real-time storage and transportation planning. The enhanced visibility is as valuable to terminal operators as it is to other stakeholders in the supply chain spanning exploration and production, midstream processing, and downstream transportation and refining.
The latest terminal management solutions combine comprehensive logistics information with the ability to alert stakeholders to a variety of logged events related to multiple, and often interdependent, processes. Users can collaborate to preempt planning oversights and associated scheduling conflicts, and to identify root causes of efficiency problems.
That collaboration extends across the entire supply chain, including upstream operators. Whether the goal is to help upstream stakeholders improve the performance of custody transfer and other product flows, or to maximize downstream manpower productivity or the return on investments in new infrastructure, today's terminal optimization platforms make it possible to design, implement and monitor key performance indicators (KPIs) across crucial and value-adding processes.
KPI development at the terminal is no different than it is for any manufacturing activity. The first step is to understand where the major pain points are. This can be done through an exercise as structured as a kaizen event (a short-duration improvement project) analysis using a Sigma scoring methodology, or as simple as pulling together leadership for a discussion and brainstorming session.
Each of the many interrelated processes in a terminal operation (including product distribution between the upstream and downstream segments) must be optimized using pipelines, rail assets, and fleets of owned or leased trucks and vessels. Crude oil arrives at the oil terminal and is transferred to storage tanks. From there, it is piped to refinery tanks for mixing and other processing. Information must be available on inventory levels and tank capacity for raw materials, as well as on intermediates and final products.
Decision makers also need data on the quantity and quality of products; their arrival times; and a variety of demand, flow rate, and cost variables. Problems at any point along the way can torpedo efficiency at the terminal while also posing scheduling and other risks across the broader logistics value chain.
Understanding Key Processes
The first step is to examine the key processes involved in daily workflow. At the terminal, this includes vessel berthing and all significant preberthing activities, as well as vessel loading and unloading, and product storage. Also important are the planning activities behind capital investments to support capacity expansion. Other transportation modes must also be considered (including rail, pipeline and truck options), along with how each affects the other.
As an example, a delay in pipeline movements from one location to another increases dock idle times as vessels wait for the tardy delivery. Organizations need to correlate information about inbound pipeline moves and the availability of docks so they can schedule vessel arrival times and manage through any disruptions.
Likewise, rail cars or trucks may unexpectedly become unavailable and disrupt product flow. These and other supply chain risks can be mitigated using KPIs that help stakeholders understand root causes of delays. These KPIs also provide benchmarks with which operators can improve and standardize their best practices, alert users before deviations from the target KPI benchmarks exceed accepted thresholds and collaborate on the best courses of action for remaining within the KPI best practices envelope.
Once the primary workflow processes have been examined, each process is broken down into the specific activities that affect operational efficiency. Mirroring upstream activities such as a drilling or fracturing operation with dedicated equipment, time-sensitive schedules and large crews, common terminal KPI focus areas include the impact of delays on manpower allocation and vessel demurrage costs, and how to measure them.
Each KPI must capture the major performance outputs of its function or process focus area, and this can be challenging. For instance, while the most popular dock KPI was traditionally utilization (i.e., whether the dock was occupied, vacant or experiencing an outage), terminal operators have since turned their focus to dock idle time, which is defined as the period during which a tanker is alongside but no cargo is being transferred. Only by measuring dock idle time is it possible to capture the performance outputs that will help optimize dock operations.
Today's enterprise-class collaborative event-logging tools make it easy for personnel to enter all pertinent events in real time, from the time spent on various preberthing operations to the expected and actual time spent at the dock. Accurately and consistently capturing this vessel berthing and turnaround data is a prerequisite for identifying root causes of dock idle time and other sources of delays so that leadership can understand where the inefficiencies exist and then work with the team to reduce or eliminate them.
Vessel Call Evolution
There are three distinct periods of a vessel call evolution: pre-transfer, transfer and post-transfer. The pre-transfer period includes events from vessel notice of readiness (NOR) through managing vessel arrival. Terminal management tools leverage real-time and historical automatic identification system (AIS) data about vessel movements to provide a clearer picture of this process.
During the transfer period, key events include preparing for, performing and completing cargo moves, and each should be considered separately to better aid in reporting concurrent and consecutive cargo moves on the same vessel call. The post-transfer period encompasses any events that occur after all transfer periods are complete.
Delays are especially important to investigate (Figure 1). If waiting time for tank space is a root cause of delays, operators can work to ensure that their customers are ready for an upcoming transfer. They might even consider charging tenants for dock time if customer-related delays are exceeding a specific threshold, consuming a cargo owner's lay time, and increasing demurrage costs. If delays are related to manpower or equipment constraints, organizations can use this information to increase headcount or invest in new liquid transfer equipment, storage capacity or dock space, for example.
The final piece is reporting. The latest terminal software technology features a variety of reporting options for displaying real-time KPIs, along with trending reports that can be viewed on shared dashboards to improve data visualization and planning collaboration. The tools foster greater transparency and collaboration in such areas as demurrage calculation and asset utilization, and have opened the door to dock innovations such as virtual tendering and just-in-time vessel arrival.
There are a variety of challenges related to implementing terminal logistics KPIs, from change management to accurate record keeping and integrating data from disparate sources. Today's terminal management tools solve these challenges and improve process efficiencies by aggregating sensor and planning/forecasting data into a single view, using analytics to streamline and optimize decision making, and facilitating real-time alerting so operators can keep all key logistics processes within established KPI performance envelopes.

ROBERT KESSLER is program manager, maritime global data solutions, at Oceaneering International Inc. His responsibilities include the development and application of the Oceaneering® TerminalSmart™ Web-based management system. Before joining the company in 2012 as director of business development for enterprise software, he had 21 years of experience in a variety of management and port engineering roles for AIRSIS, ABS, RBK Data Specialists, Nielsen Transportation Group, AMSEC and BSMI. Kessler holds a degree in marine engineering from the United States Merchant Marine Academy.